Weddings and Unions
It's my aim to make your wedding special and unique. Let's put together a ceremony that speaks from your hearts--something you and your families and friends remember with joy in years to come.
As a Humanist Celebrant, I honor and celebrate the spirit of Love which unites every couple, wherever you come from, whomever you love.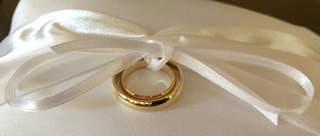 A wedding is a special kind of contract entered into by two people. The legal (and religious-sounding) term for this kind of contract is covenant. There are several parts of a wedding covenant that the State of Ohio expects to be in there, but the actual forms and wording is entirely up to us. I believe your wedding is yours to create, but I also understand not everyone is equally comfortable writing such a ceremony. I can do as much or as little as you require. Here are some examples to get you started...